A long season of availability will significantly increase your chances for employment. Ideal dates are from mid/late May through mid/late September.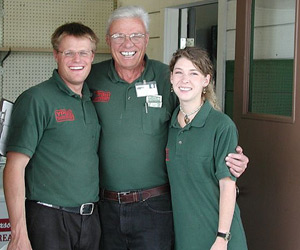 Time off:
Two days off a week. During a 3 month season, you would have 24 days off to enjoy the Yellowstone area.
Live in Yellowstone:
You'll live in some of the best country in the world for hiking, backpacking, whitewater rafting, fishing, rock climbing, geyser gazing, wildlife viewing, mountain biking and more.
Employee discounts:
YPSS provides discounts on fuel and retail items at our facilities. As an employee of Yellowstone Park Service Stations, you will be entitled to merchandise and service discounts provided by local concessioners and gateway retailers.
Affordable housing and meals:
Subsidized housing and meals is provided to all employees of YPSS. Lounges are provided in every dorm with TV/VCR/DVD. Free WiFi Internet HotSpots are available for employees. Free washers and dryers, along with a refrigerator, are also available. More details >
Health care:
A Seasonal Employee Health Care Program is provided. This program is designed to help seasonal employees in Yellowstone National Park pay for their health care while working at the Park. This program is mandatory of all Park employees and a payroll deduction of $1.08 per day occurs. It is intended to supplement, not replace, other primary insurance that seasonal employees may have.
Recreation program:
The concessioners in Yellowstone sponsor an employee recreation program administered by a full-time recreation director and staff. Activities include group hikes, educational seminars, movies, talent shows and Park-wide leagues in basketball, volleyball and softball. The recreational department also has backpacking and camping gear rentals along with sponsoring a 100 mile hiking club. For more information please visit ycerp.org.
Flexible scheduling:
We try to accommodate scheduling requests so that employees may attend religious functions that occur in the Park throughout the season. More information will be provided upon request or upon your arrival.