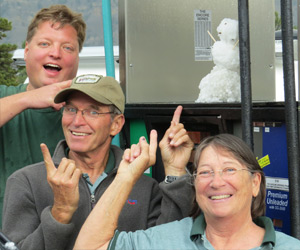 "My summer at Yellowstone is one I will never forget. Because of my experience there in 1992 I decided to get a geology degree as all the rocks and features of the park just amazed me. I am now a science teacher in California. I still enjoy having the summers off to explore this beautiful land we live in. This past summer (2002) I finally got up to Mt. St. Helens in Washington. But all in all, Yellowstone will always have a special place in my heart. Feel free to email me. Would love to hear about how things are going."
"YPSS has been, by far, the best place I have ever worked. I began as an Accounting Assistant in 1990, pumped gas at the Mammoth Station during the fall months in 90, 91, and 92. I am still here in the office and looking forward to each new season. Each year brings past employees who stop by and visit. Some of them have children now and it is wonderful to watch them grow and look forward to the future YPSS Pumpers! There are new faces each year and more wonderful memories and friends waiting. Hope to have a few more years of building memories here at YPSS!"
"Summer, 2001, with YPSS is one that I will remember for the rest of my life. I made several new friends and shared experiences that will never be erased. So many millions of people have visited the park throughout the years, but few are the people who have enjoyed the magnificence and beauty that come with living for an entire summer in this truly wonderful part of our country. For those considering YPSS...DO IT! You won't be sorry!"
"I had a lot of fun with all the people I met there. Every year around April or so I get the urge to load up the truck and head north. It is kind of hard to break lose from Texas like I used to because I have my own auto repair business in Southlake Texas that keeps me very busy. Every time a wrecker pulls into my shop to drop off a car I remember all the good times I had running wrecker and working with Dale and Barney at Grant Village."
"Oh man, what a summer! The commaraderie among the pumpers, being forced to live with Jeff Guengrich, off days on the Firehole - how much better does it get. As envious as I was of Shane, Jeff, Christi, Ernie and all the others who had worked multiple summers, I was almost glad that was my only summer because I'm not sure I could have ever recreated the perfection of that one season. I've been back 4 times since, twice for 4 weeks at a time and most recently for a short weekend for Jeff's wedding, and every time has brought back floods of great memories."
"I'm currently living in Knoxville, TN, with my wife, Angie. We've been married for almost 3 years, and are expecting our first child in January. I work as an aluminum futures trader for Alcoa Inc., the largest aluminum company in the world. I've been with them for 7 years now, and the only shortcoming of the job is that they don't offer summers off to make a pilgrimage west!"
"I am currently a senior at the Colorado School of Mines in the Geological Engineering department. I remember being scared at first because I was so far away from home (NY), but the closeness of the employees at Tower really made me much more comfortable, and it turned out to be one of the best summers of my life...I still wish I had stayed for a winter, though."
"Currently Stationed At Fort Lost in the Woods, MO as an Army Doctor. It was the most enjoyable summer I have had in a very long time. Thanks to everyone that made it possible. Anyone and everyone is more than welcome to e-mail me!!"
"Had a great time in '78. Was curious as to what ever happened to the painting on the ceiling of the station? I remember 27 inches of snow falling on Memorial Day weekend at Old Faithful in 1980, station #2 having a major gas leak in the basement. The summers I spent working for this company were some of the most incredible times of my life. I spent the first summer there to be close to my girlfriend, and the second working along side her as my wife. Backpacking, swimming, bonfires, parties (oh and work too), there was always something to be doing, and always plenty of friends to be doing it with. I'm now in the Army working on getting a commision to be a Chaplain. How times change. I wish all of you the best."
"It was my first time out west and it made me feel independent and free for the first time. The YPSS staff were organized and friendly and I thank Hal and Bill and the other folks who trained us and made us feel welcome. Our first night together after training in Gardiner the new pumpers had a snowball fight outside and inside our hotel, and from then I knew it would be a crazy, wonderful time in Yellowstone!!"
"That was an awesome summer!"
"Presently married to a YPSS alum. We have two great kids at CSU and own a good litle business, taking care of commercial floor coverings."
"I just finished a Ph.D. in English at the University of California, Davis. I wrote my dissertation on literature about the national parks (John Muir and the like). The dissertation includes brief sections in which I reflect on my personal experiences in Yellowstone. It's probably the first dissertation in, oh, a long time that features YPSS in a starring role."
"I have many memories of unusual situations some which are happy memories and some that turned out to be not so pleasent. Many stories can be told relating to these memories one such story that had a happy ending. A few years ago a young man brought his vehicle in for repairs, not having enough money to pay the repair bill He began hitch-hiking to an ATM machine located in another area of the park. A family in a motor home stopped and offered him a ride to his destination. The happy ending to this story : The Family in the motor home was the parents of the hitch-hiker. They were not aware that their Son was in the park and the hitch-hiker, their son, had no knowledge that his parent's were in the park."
"Too many memories to list and to much time to think of them all, just want to say hi to everyone from 1999 and 2001 looking forward to another season in 2002. Hope to see some of you taking time to swing into the Park if you couldnt make this year as an employee. Take care and drop me an E-mail if you can."
"Work for YPSS was the best job I have had in a long time. I have to say that Fishing Bridge is the best repair station to work at. Thanks for the great summer."
Sam
"Working in the park was an incredible experience for me. All the people I worked with at West Thumb and Old Faithful were wonderful. I hope to have the opportunity to get in touch with the many friends I made during those summers. I finally finished my BS in Mechanical Engineering from the University of Wyoming in 1996. Afterward, I spent two years working for the Peace Corps in South Africa. Now I'm teaching electronics at a community college! I like it a lot, but I don't think it's as much fun as pumping gas!"
"Still in the park but working for the park service now. moving up in the world now. I would not mind hearing from some old friends."
"Happen to be thinking about how it had been 10 yrs since my first trip to YPSS. Many great memories of Canyon 93 and Old Faithful 94. Still keep in touch with Tom at Grant Village 94."
"Deep blue skies with puffy storybook clouds. Warm, breezy days and cool nights; perfect for sitting out in the evenings and chatting. Northern lights, the Milky Way, a vivid night sky. The pungent yet delightful odor of sulfur-laden steam. Backwoods geysers, springs and fumaroles that I just knew no one else had seen! Bison jams, bugling elk, chirping whistle pigs, coyotes catching rodents (hoochers, right Clark?), the occasional bear and moose, the latter always presenting a photo op to the deserving touron bold enough to mount with child. Backpacking adventures, cycling the potholes and narrow shoulders, day hikes, trail running, swimming in Firehole Canyon and dipping alternately in Boiling River and the Gardiner River. The smell of pine. Indian summer. Friends who changed my life and helped me to grow in ways I never would have had I not met them; we may not be in contact, but I can assure you that you're not forgotten! I'll finish pharmacy school in May 2003 (Washington State University), and then hope to relocate to one of the Rockies states, or perhaps the four corners region or northern Cal (away from population centers)."
"Working at Lake gas station, I had the pleasure of working at one of most beautiful spots anywhere to work, looking at the Absaroke Mt.range just after the sun wentdown with the lake in the forefront was truly 'Purple Mountains Majesty.'"
"Oh to go back for one more summer. Jill (the cute blond girl from the office in 1990-91) and I have been married since 1992. We live in Elliston, MT with our two beatiful children. I've worked with the State of Montana since 1990 as a systems analyst. When we aren't chasing after our kids we spend a lot of time travelling around the state and fly fishing. Great place to work and live. I remember the people fondly and miss being there at times."
"I met a lot of nice people and had a lot of great experiences. Thank you for everything. I love you all. Drop me an e-mail if you would like to. I would love to hear from everyone."
"Each of the other summers was as unique as the people I was fortunate to work with and meet (Mammoth '87, Fishing Bridge '88, Canyon '89, Mammoth '90, Grant '91 and Canyon '92). I would like to think that I could still be working there so that I could repeat some of my biggest adventures and explore all the ones that I missed. Snow tubing became a great way to start the summer. Some of the longer and higher hikes had to wait until mid-summer (or not). I was introduced to kayaking during the 1988 burning of Yellowstone (the fires were quite impressive at night), biking (annual 100-mile road trip to Jackson) and ultimately my wife, Cami Cunningham (Sawyer), at Mammoth in 1990. We married in May 1991 and spent our ""honeymoon"" working for YPSS!"
"Some of my fondiest memories of YPSS are the friends and people I meet. I remember the parties at the stations and the hiking trips. I also remember the trips to Gardiner to eat at Helen's Coral, the Two Bit and K-bar. 1992- Greg and Cammie, Ernie and I took a rock climbing course and I remember the challenges on the mountain and the view. We had the best time climbing and camping out on the lawn of the school.I also remember teaching everyone at Canyon in 1992 sign language because of this one guy named Matthew that was deaf and everyone wanted to talk to him so we all learn how to spell things with our fingers so we could talk with him and we invited him to one of parties to surprise him with all that we had learned. The look on his face we awesome when he found out that we had all taken the time to learn how to communiate with him in his language. It was an awesome feeling. One I wouldn't forget. There are so many fond memories that I could go on and on. Those were two years in my live that I still look back on and smile. Great years and great experience!"
"I'm happily married to Steve. We met during the summer of '87 (he worked YPSS Fishing Bridge). We have two beautiful daughters.
Had a great summer and closed 6b2 due to bear activity in our camp. Hiked around lake Yellowstone in a weekend and made it to work only a few hours late an my Monday. Hope to see everyone soon. Peace Dan
Now I'm teaching electronics at a community college! I like it a lot, but I'm not sure it's as much fun as pumping gas!
"Too many fond memories..."
"Hi Everyone! Though I worked at the smallest station in the park I met so many wonderful people. Everyone at the office was so great and helpful in making me feel right at home. Though our cabins could get a little cold at Roosevelt there is still nothing like the beauty of that part of the park..I will never forget all those crazy experiences with the upclose and personal wildlife..exciting and brutal camping trips..and our mini trips throughout MT!! I will remember and cherish all those memories of my summer out West."
"Absolutely one of the finest summers of my life was spent working for YPSS during the summer of 1991. If any of you from the Grant Village crew read this (Jerry and Lisa, Christi, Tim, Jen, Dan, Doug, Nina, Kathy), know that you will always be special group of people. Bill Bergy if you read this (or Nelson or Hal), I hope you forgave me for leaving on September 9 rather than the 18th. I'm still sorry for that. I appreciate the fact you gave me a job that June when I so desperately wanted to stay and work in Yellowstone. Being out there for those three months have had a significant impact on my life. I was able to see the beauty of this country, its inhabitants from every corner, and people from around the globe. The experience was priceless. Here's briefly what's been happening since 1991. After graduating from Auburn University in 1993, I worked in the Four Corners region of Colorado as a Clinical Laboratory Scientist, served as a Peace Corps Volunteer science instructor in Africa, lived in Chapel Hill NC where I earned a Master of Public Health from UNC, married my dream girl, and now I'm a second year medical student in Pikeville, Kentucky at the ripe old age of 34. I have to say its been exciting and interesting life so far and I point to the summer of 1991 for awakening a deeper spirit within my soul. I cherish those memories."
"The summers that I spent in Yellowstone were some of the best I've experienced! I now live near Boulder, Colorado and I work for Celestial Seasonings. We are the largest manufacturer of herbal teas in the United States. I would love to hear from fellow YPSS'ers!"
"This was one of the best summers of my life. After that summer I went back to school and became a certified watchmaker got married and am currently working in my family's watch repair facility Nesbit's fine watch service in Seattle Washington."
"Hi, guys!! Here I am, back in Mississippi... Been thinking about YPSS lately, so visited the site and found this page. How fun! I am working as a CSR at a bank now, opening new accounts and assisting with loans. I have a 3-year old daugter, Madelyn, who is a spitting image of me. Curls and all! She is the sweetest little angel I've ever known! You have my email address, so if any of you long-term folks would like to say hi, please do. I would love to hear from you! I love all of you and miss you!"
"I am in the Ph.D. program at Texas State University-San Marcos; however, I still consider Gardiner my home and return there as often as possible."
"Working for YPSS and being in Yellowstone for three summers was the best time of my life. My first year in the park, I worked at Fishing Bridge, and was crowned the diesel queen at the station steak fry(I think it had something to do with the fact I pumped about a half gallon of diesel fuel on my boot). My second year I was at Grant and third Old Faithful #1. I throughly enjoyed every minute of the pumper lanes,water fights, oil changes, fixing tires, and scrubbing the lanes. And who could forget all the parties. Since departing, I have graduated from college with a BS, worked as a security officer, police officer, counselor providing thearapy to problem youth, and most recently graduated from a Radiologic Technologist program at the hospital here in Quincy. I am now employed at Blessing Hospital in Quincy as a CT Technologist. I have been married to my husband,Paul, since 1998. We have a 4yr old son, Brendan. Both are the joy of my life. I still get that Yellowstone itch about the end of April to return for the summer. I sure do miss all the fun times. It would be wonderful to hear from you all. I made some wonderful friends while working for YPSS."
"10/24/03: Probably the best summer I ever had. I was only at Canyon for two months in 1992, but it was a great two months. The day I left, everyone at the station signed their name to a roadmap, signed on their home state(I still have the map). I went back the following year to visit Shane and Kent, but have not been back since. I am planning a trip in the summer of 2004. I currently live in Houston. I am a Tax Anaylst for a large chemical company. Well, I hope everyone is doing well. Talk to you later."
"I came to Canyon Vilage in May 2003. I would never have imagined what I would do or see till getting there. The experience was tremendous. I enjoyed the hiking lots more than I thought I would. It was a great experience."
"A great time at a very formative stage of my life. I had 2 summers of fabulous friends, grand outdoor adventures and a chance to meet and work with the literally, the whole world! In a Bill Murray movie named ""Ground Hog Day"", Murray's character gets stuck in the same day for a nearly endless string of days....well if I got stuck in a day, I'd want it to be one of the days from a summer working for YPSS in Yellowstone!"
"Great memories. They were great times and I made some life long friendship.I'm married now and have one 12 year old girl. I lived in the far east for 4 years establishing a Import bussiness.15 years importing now .Life is good. I hope the same for the rest of my 208.106.132.105rades. Live long and make the best of it everyone."
Joe
"YPSS holds a special place in my heart - great friends, super place to work, and not a bad spot for meeting your future wife! Jeanie and I have been together since the summer of 74 (anyone from summers prior to that I've already told Jeanie you tell tall tales). 2 Great boys, own a bakery cafe the past 12 years in Little Rock. Life is good ..."
"Some of the best years of my life were spent in the Park. I worked a year in Canyon and a year at Tower as well as the ones I listed here. I've been on long hikes in the Thorofare 4 of the past 5 years, so the place is still in my blood. I've been working sales for Ski.com for 7 years now, and lived in the Aspen area for 13 1/2 years."
"YPSS was one of the best summer experiences I've ever had. The people I met and worked with are some of the best people I've met. Though I know I tried the patience of my superiors at times, everyone worked well together and made the experience truly unforgetable. I recommend YPSS my students as the perfect summer job and recruit only the ones that will contribute as well as benefit the most. Thanks again to all the people in the office (Jeff, Hal, Bill, Dorene, Matt, and I'm sure others whose names have escaped me, management at Canyon Repair, especially James- You're the man- say hi to your dad for me! and all the other employees who really made the trip, and even my outlook on life just that much better. Thanks again, and I hope to do it again soon."