Service Station/Convenience Stores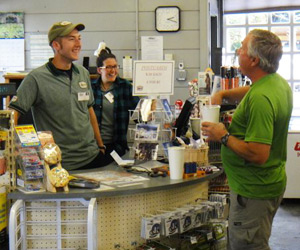 Title of Job: Retail Associate

Duties and Responsibilities:
Interact professionally & positively with Park visitors in a busy, sometimes hectic environment
Manage sales transactions by cash, credit card, or company charge form via computerized point of sale system
Comply with current federal and state laws regarding compliance and data protection of customer's credit card information
Actively sell retail items and replenish stock
Perform Inventory control
Clean public restrooms, dormitories, sales & service areas
Work varied shifts
Answer questions constantly, including providing directions
Undertake additional duties as assigned
Share knowledge of Yellowstone's history, policies and issues with Park Visitors.
Skills & Abilities
Maintain pleasant attitude on and off duty with visitors and team members
Work outdoors in wide range of weather conditions
Able to lift up to 50 pounds
Able to physically stand for periods up to four hours long
Assist with loading and unloading of warehouse delivery trucks & other vehicles
Give directions and provide information in a professional, cheerful manner
Promote appreciation and enthusiasm for Park environmental and safety programs
Be willing to learn and share Park information
Compensation
Entry level pay rate for 2018 is $10.00 per hour. In addition, a location operations bonus is payable to those who satisfactorily complete the terms of the employment agreement. For details, please contact us.