Yellowstone Park concessioners sponsor recreational activities such as dances, movies, and talent shows. They also offer league basketball, volleyball, and softball.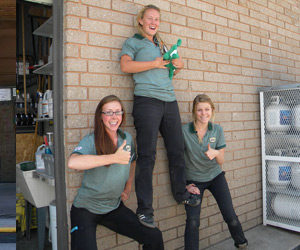 YPSS highly subsidizes housing as a benefit to our employees. $3.25 per day for housing is handled via a payroll deduction. Utilities such as electric, heat, water and sewer is included in this figure. $11.50 per day provides three meals a day at the employee cafeteria. This is also handled as a payroll deduction. All of our dorms are within walking distance of the work location. Single dorm rooms are limitedand sharing a room is a strong possibility. All housing (including work location) is assigned by YPSS. For some sample pictures of our dorms, please click here.
YPSS is not liable for the loss of personal property of any employee. We recommend that employees not bring any personal items of great value.
National Park Service Regulations prohibit the following in Employee Dormitories:
Firearms of any type
Pets of any kind
No Smoking. All federal buildings inside Yellowstone, which includes YPSS, are non-smoking by law.
Some Dorm Benefits are:
Free laundry facilities
Free utilities (electrical, water, etc)
Free WiFi Internet HotSpot for employees
Pet Policy
Due to National Park Service regulations, pets are not allowed in YPSS' housing. Those who provide their own housing and live in the Government housing areas may have pets as allowed by NPS policies.
RV Sites
YPSS does have a limited number of RV sites. The daily charge for these sites is approximately $10.50 per day plus electricity. Please contact us to check on the availability of RV sites.